What is HTTP, HTTPS and what's an SSL!?
HTTP stands for Hypertext Transfer Protocol and is the foundation of communicating data on the World Wide Web (www). HTTPS is a secure adaptation of HTTP that uses encryption using Secure Sockets Layer (SSL). Although HTTPS has been around for a decade many websites, particularly those that don't have authenticated areas or don't take credit card payments don't use them.
So how is this impacting Google?
Based on mock-ups from Google and how chrome looks now, it's likely to look something like this: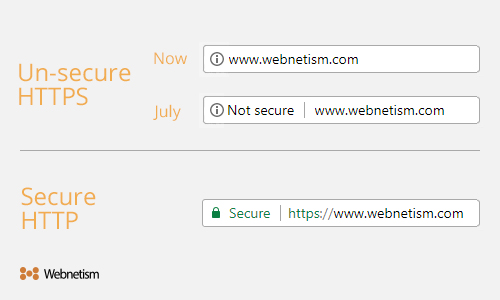 What is the impact likely to be if you don't have HTTPS?
Decreased user confidence
Decreased conversions
Reduction in site traffic
Increase in bounce rates
So how to I make my site secure?
Securing your website isn't as complicated or expensive as you might think and can be set-up by your hosting provider relatively in-expensively.
Ensure your site is hosted on a static IP address
Purchase an SSL certificate
Install & configure the SSL
Re-direct your website from http to https (so users don't access the http version!)