The hairy days of Movember may now seem like a distant (and sometimes quite itchy) memory, but it's time to reflect on an excellent effort by the Cheltenham web design & development team.
As well as increasing awareness of men's health issues (and collecting several kilos of biscuit crumbs and other food matter in their facial furniture) the guys raised an amazing £977!
A BIG thank you has to go to all our friends and family for giving to this very important cause and for putting up with our furry fanaticism. It wasn't easy, with some team members having to forfeit any "quality time" with their wives or partners for a whole 30 days. Resulting in some of the team possibly "checking themselves" a little too often…
We'd also like to say a MASSIVE thank you to all our fab web development and hosting clients who donated too. In particular, our good friends at TheDogsDoodahs.com for donating an fantastic £100 – THANK YOU!
As Movember came to an end the whole team voted for their favourite Lady Tickler in the inaugural "Webnetism Top 'Tash Award 2013"!
In true X-Factor style the competition was VERY close, in an award possibly more life changing than the Nobel Peace Prize and more glamorous than the Oscars. But ultimately, there could be only one winner [cue furry fanfare]…. Webnetism's Creative Director, Tim Jay (a.k.a. "The Third Chuckle Brother", a.k.a. "The Ginger Dogtanian")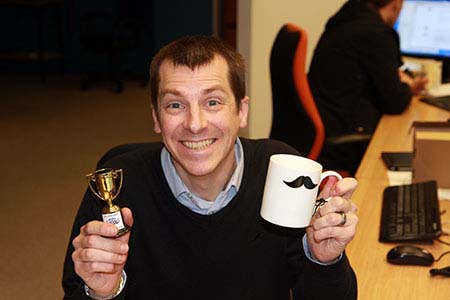 "I'm honoured to win such a prestigious award but I amazed myself with what I managed to achieve. I'd never attempted such a feat before and always considered myself to be quite baby faced. The rate at which the whiskers materialized was quite astounding and the range of fabulous colours (including a few white ones!) that appeared caused me to gaze in the mirror far too long each morning."