As you may have heard down the grapevine, Google Analytics 4, as it has been nicknamed, is here and it's more powerful than ever before.
Though machine learning has always been a part of Google's algorithms, they have been working their little fingers away to improve the information it provides marketeers particularly focusing on four key features: smarter insights that use machine learning, better integration with GoogleAds, better reporting capabilities and new data controls.
Smarter insights
Google Analytics will now be able to automatically alert marketers of data changes, using Gooogle's smart machine learning capabilities, such as an increasing demand for a product they sell.
This is particularly interesting as it will help marketeers get ahead of the curve, as the new feature will also predict future actions that customers may take.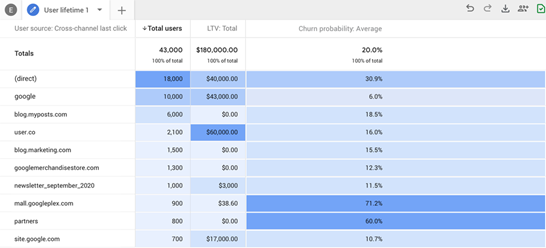 Furthermore, in the future, Google will add new predictive metrics to this feature so that overtime marketeers will be able to estimate potential revenue from a group of customers – how clever is this?
GoogleAds integration
The reason the above new feature is possible is because Google have been working on improving the integration with GoogleAds, which will give marketeers the ability to build and maintain customer audiences from the visitors to their website, keep this list automatically updated, and when users action tasks, such as make a purchase, it will make GoogleAds more efficient with their targeting/retargeting – no more wasting precious budget!

Better reporting capabilities
The most improvement seems to have been with the reporting facility and how they're organised. Reports are now designed to help marketeers understand their customers better and really get to grips with how they're interacting with a business.
Over the long-term marketeers will be able to gain better understanding of the entire customer cycle – from acquisition to conversion, and more importantly retention, and Google Analytics 4 does this through the use of multiple identity spaces, including marketer-provided User IDs and unique Google signals from users opted into ads.
Vidhya Srinivasan, VP of Measurement, Analytics & Buying Platform at Google said in the release,
based on your feedback, we simplified and re-organized reporting so you can intuitively find marketing insights based on the part of the customer journey you're interested in.
For example, you can see what channels are driving new customers in the user acquisition report, then use the engagement and retention reports to understand the actions these customers take, and whether they stick around, after converting.
New data controls
New data controls allow marketers to use and manage how data is collected and retained. These controls can be specified so that Google knows how data should be used for advertising.
Marketers can now choose when to use customer data to create better adverts, and when to not use this data or use measurement only.
What next?
We would advise any marketer looking to implement these new features to have a read of Google's handy guide here.
However, there's a lot to get your head around so why don't you give us a call, and we can help you navigate through this.