Quality Score
Quality Score is a summary of how relevant your keywords, landing pages and Google ads are to the audience who see the adverts. A higher quality score usually lowers the costs and gets the ads to perform better in terms of ranking.
On the whole a quality score for AdWords PPC is a measure of the trustworthiness of your account, there are several factors affecting this depending on how relevant your keywords, landing pages and Google ads are performing. For instance if your customers are searching for clothes but the search engine takes them to a clothes branded app, even though it is related to the subject it's not primarily what they were looking for, so would reduce the accounts quality score.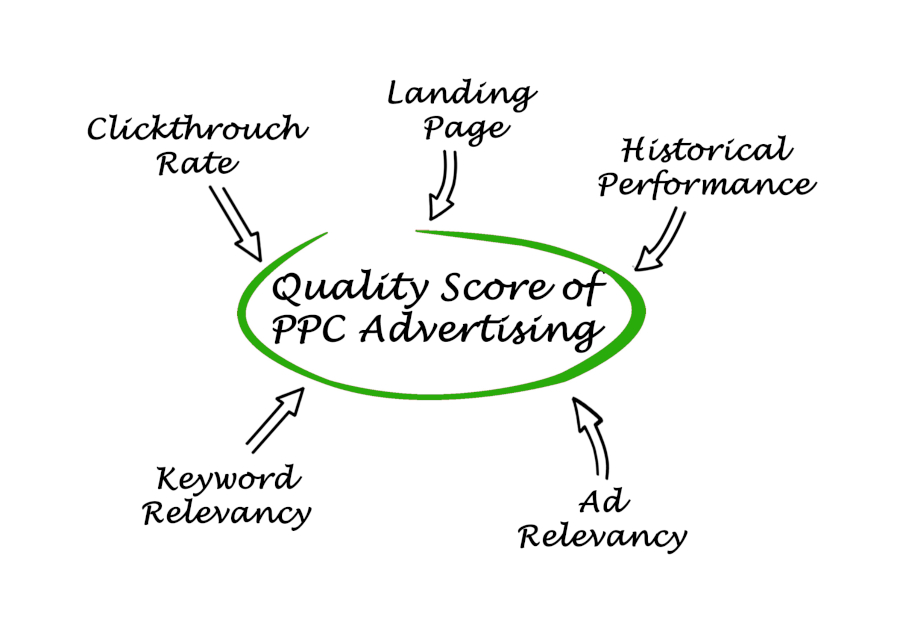 Let's break it down further
Quality scores relating to your PPC ads are affected by two variables: Position and Cost.
Position basically means that if there was a similar ad that had exactly the same landing page, budget, copy and keywords in place, then the one with a higher quality score will be placed higher. Of course in this example the bidding strategy could be changed allowing higher bidding cost and this would then in turn make the ad rank higher.
Expected CTR + Ad relevance + Landing page relevance = Quality score
It's vital to undertake keyword research in order to run campaigns that target relevant keywords for your business. The strategy for keyword research is to choose keywords that are highly relevant for the landing page that you are trying to target. It is therefore recommended to use private data sources, internal analytics, and referrer data to target relevant keywords for your business instead of using industry generic keywords.
You can easily end up running several ad campaigns simultaneously. Because these are specifically targeted towards relevant keywords, it is possible that all the ads would add up to a reasonable budget but the traffic would be segmented.
Focus on the landing page needs to be specific and relevant to your keywords to gain maximum results from adverts.
The benefits of having different ad groups is that keywords can be segmented and specific ad copy can be written to match each. Having a generic ad copy for all of your ads would not be as successful as having a tailored specific copy for each advert.
If your website contains a huge amount of landing pages this can also have a negative impact on Google if they are not seen as relevant to the search. It can sometimes be seen as not appropriate for the search results, therefore some companies set their landing pages as noindex. Having a noindex page won't degrade your quality score!
Last but not least, don't forget to write compelling ad copy. It is extremely important to get users to want to click on the ad.
Backlinks
What are Backlinks?
A backlink is a link placed on a website which links to an external website. So this could be a link on someone else`s website directing back to your website.

Why are Backlinks Important?
Backlinks a very valuable asset when considering SEO because they show how trustworthy a site is. There are good backlinks and there are those that score lower and therefore tend to negatively affect your websites SEO, so watch out!
If there are many sites that link to the same webpage, search engines may indicate that the page is worth linking to and can have a positive effect on the site's ranking position or search visibility.
You can also improve your score trust ranking by earning and giving backlinks to external websites. That is also why for instance the use of guest bloggers is an essential part of SEO as this can give you backlinks in exchange for a blog post and some interesting copy for your website. We call this process of improving backlinks, search results and trust scores - link building.
Some backlinks are more important as they will have a higher impact on the trustworthiness scale. A backlink from a popular site that has a high authority will have a good impact on your trust scores. Examples of important links are from pages such as .gov and .edu (universities, colleagues and government). These are links that are hard to obtain but they are high credibility scores. Having links from spammy websites with low authority will have a negative impact on your trust score. There is a solution to this, links to sites with a low trust score can use a nofollow link. If you are unsure how to do this, get in touch and we will be more than happy to help.
Backlink Research
Backlinks are not easy to receive and it can be time consuming to try and establish these. There are a few ways to start and improve your link building; The first steps may be to look at well ranked competitor's websites and see what keywords they are using. This is also a good opportunity to gain insight into how link building might have helped them.